Helllllo readers, it's Friday once again *cheers* and me and the blogging schedule are finally getting along. I'm finding writing more means I'm enjoying it more, I hate to say it but the dreaded writer's blogging block hasn't reared its head for a number of months now. I'm also really enjoying all the book bloggers non-bookish posts recently, there's so much to write about and it's nice to get something a little rambleier once in a while.
Today I was tagged by the wonderful Samantha over at 'Sleepy book dragon,' (Thank you for nominating mee!) a brilliant blog with some really interesting and unique bookish posts, definitely one to take a wander through. For now, onto le tag.
Show a book with a summery cover
I've decided to pick something a little different, but I think 'All the Bright Places' by Jennifer Niven has such a summery feel to the cover. I know that content is a little darker for a summer read but I think the neutral colours are all so beautiful and have a really summery feel!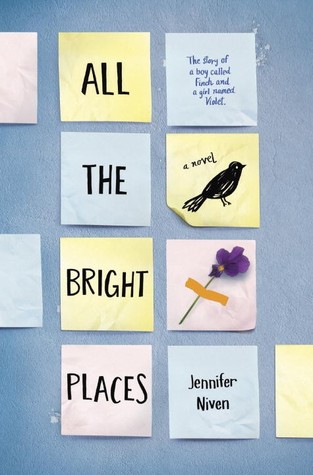 Pick a fictional place that would be the perfect destination for a summer holiday.
I think the beach on the island in the book Kensuke's Kingdom. It's described as island that is shaped like an elongated peanut in the Pacific Ocean. I always thought it was really beautifully described as a child. A couple of days there reading and lazing in the sun sounds perfecto.
You're about to go on a flight for your summer holidays but you want to read a book that lasts the whole flight. What novella do you choose?
For his birthday just gone I bought T, the New York Trilogy written by Paul Auster because it was recommended as quite similar to Murakami's writing style. He thought it was pretty good and picked up Moon Palace which he has been begging me to read but I kinda fancy his book Travels in the Scriptorium
You have a case of summertime sadness – what book do you pick to shine a smile on your face?
Maybe an odd choice but I think  The Famous Five by Enid Blyton. It's nice to go back and read something that always used to put a smile on your face and this definitely did for me.
You're sitting at the beach all alone…which fictional character would be your beach babe?
I think Sophie Klein from Stella Newman's Pear Shaped. We could snack on Pirngles drink Margaritas and have a good ole' chat about all things life throws at you. She would be an utter babe of a friend to have at the beach.
To match your ice cream, you want an icy cool sidekick! Which fictional sidekick do you pick?
I think it would have to be Ron Weasley. I can see him cavorting up and down the beach causing mischief and mayhem. He'd be killer on the barbeque and I recon he can throw a frisbee. Pretty perfect.
I now tag the wonderful Jenny from Jenny in Neverland to complete le tag.