Helllo readers, LISTEN UP, because I have a really special book for you. When I started writing reviews BACK IN THE DAY, the author Ian Probert got in touch and to be honest I've been reading everything he's written ever since and that's because it's brilliant, and this book is no different. Less rambling from me, onto le review.
A quarter of a century ago journalist and author Ian Probert decided never to write about boxing again. His decision was prompted by the injuries sustained by boxer Michael Watson during his world title fight with Chris Eubank. Now, in common with so many fighters, Probert is making an inevitable comeback. Dangerous sees Probert return to the scene of an obsession that has gripped him from childhood. In the course of numerous meetings with a number of leading figures in the fight game, including Herol Graham, Steve Collins, Michael Watson and Kellie Maloney among others. 
Probert takes a look at how lives have changed, developed and even unravelled during the time he has been away from the sport. From an illuminating and honest encounter with transgender fight manager Kellie Maloney to an emotional reunion with Watson himself, Probert discovers just how much the sport has changed during his absence. The end result is one of the most fascinating and unusual books ever to have been written about boxing.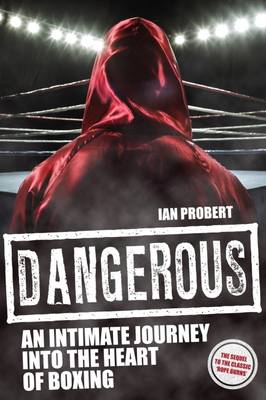 I'm not quite sure how to review this book because it's like nothing I've ever read before and I'm not sure I'll ever read anything like it again. This is a book about a journey, about self-worth, about family and roots and finding, or trying to find answers that might have always been slightly out of reach. In the book Probert tries to come to terms with the death of his father. Their relationship, built so strongly through the passion for boxing has become weathered and tense through the lives of both, and now that he has passed Probert wants to break free of the shackles of a tumultuous relationship and delve back into the sport that drove the two of them together – maybe more so than the bond of father and son.
Through the book Probert visits and talks to many boxers from his past – you see this book is almost a sequel to the novel Rope Burns published in 1998 which I will link for you. Being a sports journalist for rather a long time Probert became well acquainted with LOTS of boxers and we get to visit so many of them. Chapter by Chapter Probert delves into his history meeting boxers such as Michael Watson, Chris Eubank,  Nigel Benn  and interestingly Kellie Maloney. This is all contrasted with the author going to see a rather awkward therapist for sessions to talk, just talk. It's a really interesting concept as we see both sides of the 'healing' process
The writing style is incredibly personal –  it's as if you're inside the authors head throughout, feeling his inner thoughts, and seeing all of his memories converge as we kind of wade through a lot of boxing knowledge. Which is what I wanted to come to next I actually read this book on my computer because ya know the joys of ARC copies, but I actually found myself  googling and watching a lot of different fights, finding out facts and researching different boxers. I was actually shocked at how engaged I felt with a book that talked about something I have, before now, had no interest in at all. This book opened my eyes to a completely new world of boxing. 
The end is also utterly beautiful – we don't quite get a perfectly sewn up ending but, I'll leave that to you because you have to go and pre-order it and then go and read it because it's awesome. So yep. #NOSPOILERSHERE.
SO, time to sum up. This is one of those reviews where there is JUST TO MUCH TO GET IN. I can't tell you about all the special moments, the sweet stories, Probert's bittersweet pain of delving into his past and then comparing it to the present and the current lives, loves and health of the boxers that we get to meet. Go and pre-order the book. Go, because it is fantastic, it is wonderful and it is a brilliant book that might open your eyes to a completely new world.
Linnnnnnksssss