Helllllllo readers, bit of a different review today. I went home at the weekend and I was looking at my bookshelves, and there were so many books I just haven't commented on, or said anything about and some of them are definitely books that need to be talked about – so here I am. Today's book is one I know that has been reviewed over and over, but I'm here today – reviewing it just for you.
"Powerful and unsettling. . . . As memorable an introduction to the subject as The Diary of Anne Frank." —USA Today
Berlin, 1942: When Bruno returns home from school one day, he discovers that his belongings are being packed in crates. His father has received a promotion and the family must move to a new house far, far away, where there is no one to play with and nothing to do. A tall fence stretches as far as the eye can see and cuts him off from the strange people in the distance.
But Bruno longs to be an explorer and decides that there must be more to this desolate new place than meets the eye. While exploring his new environment, he meets another boy whose life and circumstances are very different from his own, and their meeting results in a friendship that has devastating consequences.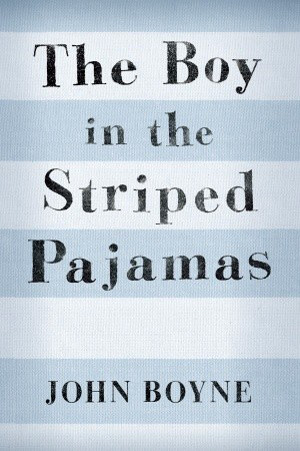 As the blurb suggests the book follows a 9-year-old German boy whose father is a high-ranking solider in the SS, who decides to move his family to a house outside of the horror camp that was Auschwitz. As Bruno explores his home and the camp he becomes friends with a boy on the other side of the fence. The book follows the journey and the story of the two, and their unusual friendship.
So, did I enjoy this (using enjoy as a term of how good the book was.) It's a really tough subject to talk about and I did and didn't enjoy this book. The first problem comes with Bruno; he's a very difficult character to warm to, and yet he's our main character. Despite living so close to the camp and being the age he is, he has no idea of the camp, and what it's there for, and his innocence or ignorance towards even the word Jew was a little difficult to imagine. Especially as he continues to befriend the boy in the camp, he doesn't seem to understand the danger, and the terror on the other side of the fence.
In terms of positives I thought the use of third person worked really well especially from a child's point of view – which this is aimed at, although the themes are a little dark. Although at times the word choice is a little complicated, the use of the third person works to fill in the information needed. However, it doesn't quite work because Bruno is so difficult to listen to. He's so conceited, and oblivious to what is going on around him; despite his friend saying he's hungry, he's getting greyer and greyer and thinner and thinner, Bruno just complains about his own life. It's difficult to read when you know the terror that happened inside the camp. 
The final struggle for me was that it didn't quite make the point I think it meant to; yes the ending is truly heartbreaking and shocking but the actual book doesn't quite tell the story from either side. It doesn't give enough of a portrayal and to a point for a child, I think this would definitely encourage a reader to go and find out more; I think from a more adult perspective it doesn't quite work. I think I've read this twice and the first time I thought wow, big impact and that was a while ago but more recently I realised it was the ending only that I really remembered.

So, what did I think. I think overall this is a book to create an impact and I think it definitely did. I mean the number of reviews on Goodreads are incredible and the changes of opinion are also incredible. Some love the book, some find the historical inaccuracies difficult to overlook. For me it hits a 3/3.5 stars because I did enjoy reading it, but something didn't quite sit right with me. 
Linnnnks