Helllloooo readers, it's time for another Top Ten Tuesday and today's is a free week so we're allowed to pick our own bookish topic! Over Christmas I was tempted over and over again to buy alllll of the bookish things but I stopped myself because 1) Christmas, 2) Money. However I thought this post would be the perfect time to collate all the bookish bits I want that would fit in my dreamy book blogger bag. I know it's a little odd for a topic but imma going to go with it. Additionally I will link where I found all of these bits so you can go buy them yourselves!
Canvas And Leather Foldover Backpack by EAZO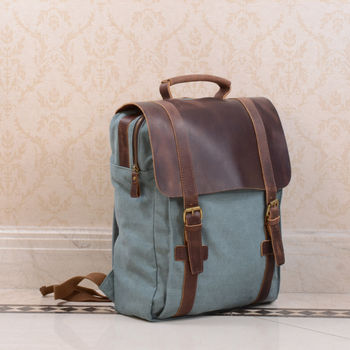 Firstly I kinda need a bag to carry around all my lovely bookish-bits. This bag is utterly gorgeous and would have plenty of room for laptop/book/purse/make-up/spare socks etc. I can see me popping this on with skinny jeans, flannel grey blazer, white silk shirt, converse and a bright yellow scarf. Gorg.
Organic Cotton Tablet Case by EKA
Knowing me the bag would be fulllllll of bits-and-bobs so to save a little space I've gone for a Kindle case in this beautiful sassy light blue. I have a number of these for my Iphone 5c which I bought from Etsy and not only are they are super soft, but they're brilliant for protecting from screen scratching – perfect.
Classic Paperback Notebooks by PAPERPAPER
*eeeee* what could be better than this bookish Penguin style notebook. This would be perfect in my bookish bag and perfect for all my bookish post ideas!
I am the worst at keeping an eye on all of my bookmarks but I think if I had one as lovely as this I would definitely look after it. 'Ethically produced from off-cuts of leather, leftover from our seasonal collections and hand stamped in lowercase jaunty font.' It just speaks to my bookish-heart.
I know this should probably be around my neck but knowing me it would be in the bottom of my bag because I'm a nightmare so it's going in the bag. I bought a necklace with a stack of books as the pendent a year of so ago and they broke off so quickly *wails.* Looking back may have been a bit too bulky but this is beautiful. Simple, classy and perfect for Lizzo.
Raw Chocolate Bar With Peanut Butter by NANTWEN
If you're anything like me you need to have a snack in your bag and I am lusting over this yummy looking little bar. They also do one with fig that is also on my wish list for snacking.
I lave me this phone case – and even though I have a pink 5c so I'm a little against covering its salmon pink wonderfulness – I may make an exception for this little beauty. Totally bookish and so dainty – I'm sold.
Alice In Wonderland Handkerchief Set by CHÁ COM LETRAS
Another product I wouldn't normally carry in my bag but I just couldn't resist these adorable handkerchiefs. Styled on Alice and Wonderland I can see me cleaning my phone or sunglasses on these beauties, but mostly having them just to stare at *eee.*
THIS PURSE!  There's something about the inky splashes that just feels so bookish. I can imagine keeping my library card, and spare pennies for library fines in here and maybe a spare bookmark or two.
Finishing it off with five beautiful pencils – I've seen a number of different sets all over the internet but there's something about the wording and the white colour of pencil that screams Lizzo – *adds to basket.*
Right, so there we go, ten wonderful things in my bookish-dreamy-bag. All of these I found on Not On The High Street (where all the images are from,) and I think all of them are currently available for you too get your mitts on, unless I get there first! What would you add? What dreamy book items are on your WANT list? Let me know in the comments or tweet me @littlebookblog1!