Hellllllo readers, I know it's Monday and Monday's suck but I'm going to try and help you through with a beachy read! I've written a post for Friday on the worst reading slump of all my reading slumps, so I've been trailing back through my Kindle purchases and reviewing books I've read but not quite got round to reviewing here. Additionally, if you're waiting for reviews on Amazon/Goodreads they will be there soon, it's just a case that I've left it realllllly long and now I've got lots to do so I'm putting it off! Hopefully this weekend they'll make it on there (SORRY.)
Welcome to Beachwood Bay: the small town where passion and romance are making waves…
Emerson Ray is trouble. Juliet knows it the minute she lays eyes on Beachwood Bay's resident bad boy. Forced to spend her summer before college in the sleepy beach town, she never expected to crash into the most devastating guy she's ever met–or for Emerson's blue eyes to strip through her dark secrets, and make her feel a desire she's never known. Their connection is undeniable, but Juliet is torn. She knows, once she gives him everything, there'll be no turning back.
Juliet McKenzie is dangerous. Emerson can tell from the way she blows through all his defenses, laying bare the demons he's carried alone all his life. He's left a trail of broken hearts and empty beds in his wake, but Juliet is different. Her innocence is intoxicating–and the passion she keeps hidden, just below the surface. He wants to be the only one to set it free, but with every kiss, he's closer to losing control and doing the one thing he swore he never would: fall in love.
One summer. Two damaged hearts. Their story is only just beginning…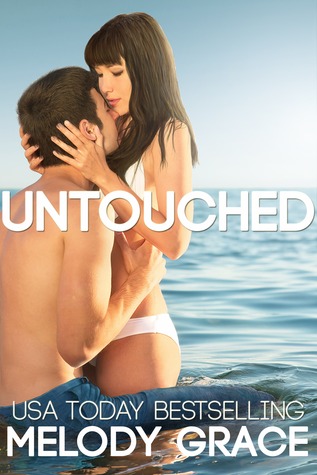 There's quite a lot of blurb there but I'll do a quick re-cap. The book follows the lives of Julia, who has applied for college  far away from her family to get a new start away from her alcoholic father, her sister who has no time for her and her mother who just craves attention but first she must get through the family vacation at Cedar Cove. Emmerson is the local bad boy who hasn't had the most rosy of starts in life. Working numerous jobs to support himself and his younger siblings and struggling with his broken relationship with his mother he's lost all hope until he crashes into our lovely female protagonist.
So a little predictable and the writing is very much sweet 16 kind of love. I must admit despite myself the first chapter did really reel me in. There is a lot of sexual tension mixed into the first scenes and the heat between the two is palpable. The first few chapters are really well-written and pack a punch and we see their personalities really shine through. Both are utterly stubborn and refuse to take help from the other. I loved Julia's gutsy personality although at times she does come across a little whimsical and tiring but I think the target audience for this book is a little younger than me – I think sixteen-year-old Lizzy would have loved this a lot more. Emmerson is a HOT MESS – HOLLA. He's stubborn, loving, utterly gorgeous and a total heart-throb so thumbs up.
Throughout the book a number of side-stories as woven in especially with the use of both the main characters families which helps to add interest and is impressive seeing how short the book is. This also helped to make the relationship feel like it was more than just lust but there was a connection which helped to make the book feel more genuine. There are additionally a number of incredibly steamy scenes that were written with a lot of guts and passion. These two are infatuated with each other but the use of the back-stories helps to add intrigue whether they can be together and whether it will work between them.
There are two main wobbles with this book – first it is incredibly short, and although novella's are short it shouldn't mean that the story is compromised. Here the story inside the book has to be squashed and that means the descriptions of the characters, how they meet, and the build up of their relationship is also squashed. The book is ninety pages long and just couldn't help but think write in maybe just another hundred pages or so and it would have allowed a little more room for development.
I guess the way to finish up is this is the perfect, easy beachy read with a hot romance. Yes, it might not be so developed but for me it was just what I needed.
Linnnnks