Helllllo readers, hope you're well. I recently realised that WordPress hasn't been picking up a lot of my silly spelling mistakes so when they get published there have been quite a few letters missed out, or extra letters. I've spent today going through and editing again – there are always a few you miss no matter how carefully you check. Additionally I'm in the process of putting about 15 reviews on Amazon and Goodreads – I think I might make it a monthly thing because I just don't have time so if you're waiting they will be there soon. To today's review – enjoy.
A romance best seller in 2013 and 2014, High Heels in New York is the first book in the High Heels Fashion series that weaves together suspense, love, and betrayal within the lives of two best friends.
Melissa De La Rosa has never felt luckier. She is to marry her ideal man, and about to launch her shoe line during the coveted fashion week in New York. But in one afternoon her "happily ever after" begins to fall apart when tragedy strikes, unleashing a string of events she never in her wildest dreams anticipated.
Then there's Angelina, is a Hollywood has-been who can't break her addiction to drugs, which she basically needs to actually function. Banking on her latest picture to launch her back into Hollywood royalty, a long kept secret vows to destroy the life she's so carefully crafted.
​
In the city that never sleeps, secrets are never truly hidden.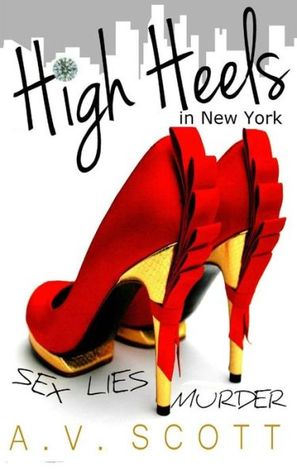 As the blurb suggests the book follows Melissa who loses her dream life when her supposed prince charming is really a thief who not only ruins her big day, but has been lying for years, and stole her money and her heart. However, our main protagonist picks herself up and decides to throw herself back into her dream of making and creating beautiful, perfect shoes. On the other side of the story, Angelina is an old and tired actress who is desperate to keep herself in the spotlight. However a family tree mistake and her best friend Melissa nearly losing her mind it's all going to get a bit messy.
This review is going to be a little tough because there are lots of what I call wobbles. The first thing to note is the characters that are built, are both shallow and incredibly frustrating. They lack traits that make readers fall in love with them and although Melissa tries to push forward this strong, dutiful woman it feels vague and unbelievable. There's just a lack of depth. The writing is also (really unfortunately) poor in it's entirety. If you ignore the grammatical and spelling mistakes the consistency errors are awful. At one point we hear a lot about a character going to visit a city and all the places she wants to go. When we go to the city it's a completely different one with completely different tourist hot-spots, not to mention a characters name changes entirely for a few chapters – SORRY WHUT!
As you might imagine this makes the plot difficult to pull together. Not only does the story jump all over the place but the sub-plots are a little confused and get muddled with the rest of the characters. It doesn't feel consistent and it makes it difficult to keep a hold of the plot-line. There are bits that are written with real skill and do show the potential of the author but they are just 'bits.' It's a shame because I kept reading only to see what on earth would happen next – it was so unstable in it's telling that it became enjoyable for allllll the wrong reasons. Another big wobble is that the tense changes, uncomfortably and regularly, as in, in the same paragraphs multiple times at points.
I guess, overall, it felt a little like a first draft, because the editing was just not there. There are mistakes that I believe 16 year old Lizzy could have picked out pretty easily and quickly. These errors should have been picked up by any editor easily and suggested to be changed. The plot felt like an outline that needed developing and there was space too. I'm not going to go into the ending because it was honestly a car crash. It just ended with nothing to let the reader feel they had finished a really interesting and exciting book.
It's horrible but there is little to say about this book other than it direly needs an edit. The premise of the book isn't too far off and with an big edit of grammar/spelling/consistency there is potential there. There needs to be a big focus on Melissa's back-story, her love for shoes, the fashion show and the author could have gone to town on that but it doesn't. Overall this book struggles and it's a darn shame.
Linnnks