Helllllo readers, it's Tuesday which means it's another Top Ten Tuesday's post as always hosted by The Broke and the Bookish. This week's topic is to list ten books you must read if you loved this author/book/series. A slight confession, I didn't really like Gone Girl when I read it. I found it a difficult and unnerving read, but it's become this thriller cult contemporary 'classic,' and with the film to boot I've found more and more books to read like it and many I've enjoyed a lot more. I thought this might be a more original post but Googling this topic online I've found sooooooo many lists goddamn it. However, still going with the list; hope you enjoy.
1) First on the list is The Cuckoo's Calling, by J.K. Rowling also known as Robert Galbraith
I adored this book when it came out but unfortunately didn't read it until it had been revealed as one of J K's. I thought this book was a really exciting and interesting detective novel and I thought it was written a lot better than the Casual Vacancy. I thought the twists and turns were very Gone Girl 'esque' and the author kept you guessing throughout.
2) The Vault by Karen Long
This book is crime thriller gold! I have mentioned this book a number of times but Karen has such a wealth of knowledge and really knows how to get under the readers skin. It's a little scary how much she knows about the deadly mind of the killer and in my Q&A I got to learn a lot more about the thought process behind the book. It's terrifying with lots exploration of characters and their minds and it's written so brilliantly. Go and read, now.
3) The Girl on the Train by Paula Hawkins
This book surprisingly has I think quite mixed reviews, it's not a marmite love/hate but it just seems some people couldn't connect to our main character. I however really enjoyed it, I thought the characterisation was good, the pace was smooth although not too quick and the end twist was brilliant. I really enjoyed it and I would definitely recommend.
4) Before I Go to Sleep by S.J. Watson
Gah this book was brilliant, if you don't know the book follows Christine who wakes up in bed with a man she does not know, in an unfamiliar house. The man explains that he is her husband, Ben, and that she suffered brain damage from a car accident ten years earlier and wakes up every morning with no memory of her life from her early twenties onwards.
It's a chilling tale from the outset and it's written so you immediately start to find faults in Ben's behaviour, and as Christine starts to keep a diary she realises that not all is what it seems. Once again countless twists and turns and a shocking ending it's a blistering tale.
5) The Girl who kicked the hornet's nest by Stieg Larsson
I picked this book not only because it's my favourite of the three which really surprised me but because of the stunning insights into Lisbeth Salander. She's a standout character of the entire series but watching her grow and transform through her convictions of murder which Mikael Blomkvist attempts to have cleared, this kickass character along with the rising tension, unknown facts that come to light and the like it's a brilliant tale worth a read.
6) The Husband's Secret by Liane Moriarty
Imagine your husband wrote you a letter, only to be opened after his death. How would you feel? Terrified, unsettled, confused? This book is dark, heady and exciting. There are a wealth of well developed characters the feeling of suspense throughout and it's a real page turner. Definitely worth an add to your well stocked TBR.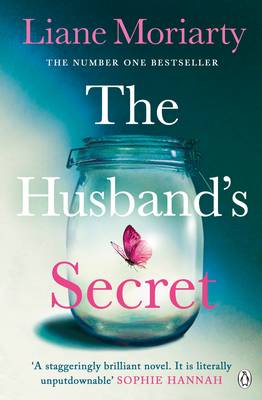 7) Elizabeth Is Missing by Emma Healey
Another book that I've read recently, this links to the feeling of being kept in the darkness the same as we are in gone girl. The book follows Maud who is struggling with dementia but she knows that Elizabeth is missing. We follow the harrowing tale as we try and decipher with Maud just what has happened to Elizabeth. It's a heart-wrenching tale that takes the reader on a truly exciting but heartfelt journey. Read it, you must.
8) Complicit By Nicci French
I've added this too the tale because once again the suspense that the author manages to weave in to the narrative. The book follows Bonnie Graham who is in her friend's flat. She is alone, except for the dead body lying in a pool of blood. What happened? What will she do? And is any or all of it her fault?
It's another whodunit tale but it's written with skill, and it plays on the reader. We are continually toying and froing between what we think is happening and what the author is telling us is happening. Much like Gone Girl.
9) Blood of the Rose by Kevin Murray
This book is more of a thriller and doesn't link as strongly to gone girl but I liked the piecing together of clues which I thought was very Gone Girl esque. It also has a very strong female lead character as like Gone Girl and it holds the suspense throughout. The book follows the Jennifer Chapman, renowned journalist as she tries to get revenge for the death of her father. The link between the murders is tenuous, the red rose and I liked the suspense throughout. It just has that Gone Girl feel for me.
10) Dare Me, by Megan Abbott
So quick admission, I haven't read this book yet, but when I was doing a little google into what other people had suggested this just kept cropping up and I now desperately want to read it. The book follows best friends, and cheerleaders, Addy and Beth who are competing for the attention of their coach who works to play the girls insecurities against one another. When a suspicious suicide occurs the mystery begins. Gah this sounds amazing!
Another top ten Tuesday's done and dusted. I am really excited to read Dare me and I can't wait to hear all of your thoughts on the list and your own lists. As always comments would be darling and if you want check out my reviews of each of the books (minus Dare Me obviously) and let me know what you think.