Helllo readers, it's an exciting review today because I won this lovely novel in a blog competiton; thank you to Tasha from The Bookie Monsters. If you are yet to take a wander around her blog it is definitely worth a click or three. It's a brilliant, brilliant blog that I am always nominating for bookish blogger nominations. This book has been doing the rounds on the blogosphere lately which is always exciting to watch play out and I've only seen positive reviews so far, however I wanted to write my own thoughts on this book, and try once again to put another book on your TBR lists.
Fall in love with Milo Moon
Milo Moon has retinitis pigmentoso; his eyes are slowly failing and he will eventually go blind/But for now he sees the world through a pinhole and notices the things other people don't. When Milo's beloved Gran succumbs to dementia and moves into a nursing home, Milo soon realises there's something very wrong at the home. Some with just Hamlet, his pet pig, to help, Milo sets out a mission to expose the nursing home and the sinister Nurse Thornhill.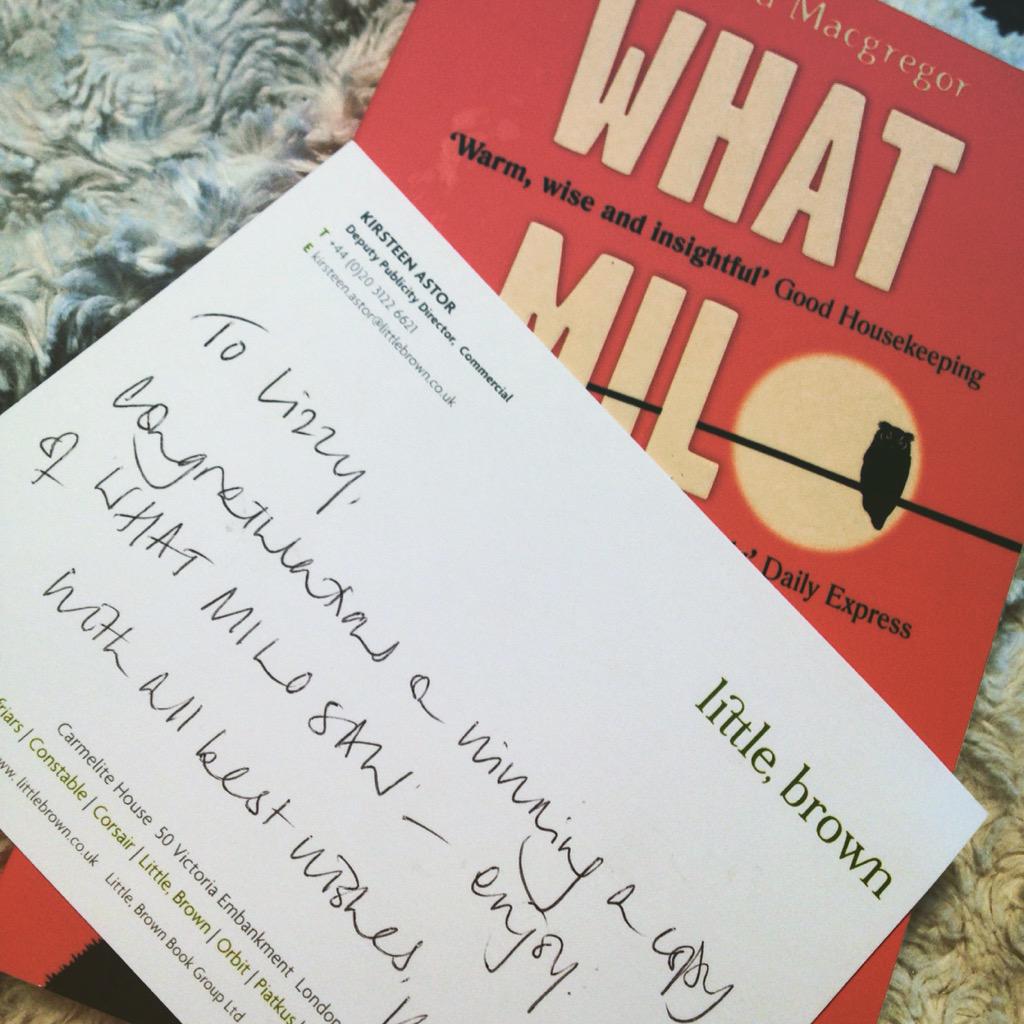 I'm not going to lie when I read the comments on this book I thought 'hmmm, really? Fall in love with Milo.' But wait maybe two pages and you will already have fallen undoubtedly in love with the beloved Milo Moon. As the blurb suggests the book follows Milo as he cares for his darling Gran who is becoming a ghost of herself. Unable to dress herself at times or use the cooker she is becoming a liability to herself, Milo and his mum Sandy. After one particularly dangerous episode Sandy decides it is is time to put Gran in a home, for everyone's safety. Milo isn't having any of it, but they find a home for Nan at 'Forget me not.' But Milo, taught by his Gran to use his other senses to detect the little things that others don't, soon realises not everything is as it seems. Can Milo save his Gran from the danger of Forget Me Not?
Fingers crossed!
From the very beginning I thought this book was a wonderful tale. I couldn't stop myself from reading on and on. Not only is the plot a really strong plot line but the characters are wonderfully honest and built up. Milo is sweet and warm; he has the assured confidence that nine year olds hold and he wanders around making his own secret investigations into the goings-on in Forgot Me Not the nursing home. He befriends the cook at the home Trippi and the two learn about one and another, their cultural differences and their different family situations. Trippi is searching for his sister who didn't make it across to England from Syria and Milos warmth towards him is something I wish was shown by more peple in this country. Sandy is a difficult character but you can see she is desperate to be a good mother. She wants to do right but the breakdown of her marriage is breaking her. Lou is probably my favourite of them all; the old lady is a sweet treat who keeps throwing surprises into the mix. The tale told about her dementia is heartbreaking and I was truly upset by her demise.
The writing is strong and weaves numerous plots around the many characters; from the main storyline to the tale of Trippi's sister being missing and Sandy's struggle with the breakdown of her marriage the author manages this well. Nothing feels under-loved or forgotten and each is given time to develop. The writing is strong and lyrical. It weaves and bobs pulling the reader in as the story develops. For me the ending was a little coy but it worked well and almost brought a tear (I say almost *coughs*)
Overall this is a really well-told story. Some books it feels the author has started with a plan and just run with it. Here it feels like the author knew exactly where they were going, what they wanted to reader to feel and how it was all going to develop which I liked. I felt safe that I would be given a beautiful book and I undoubtably was. Overall a really beautiful tale and one I would definitely recommend.
Linnnnnks